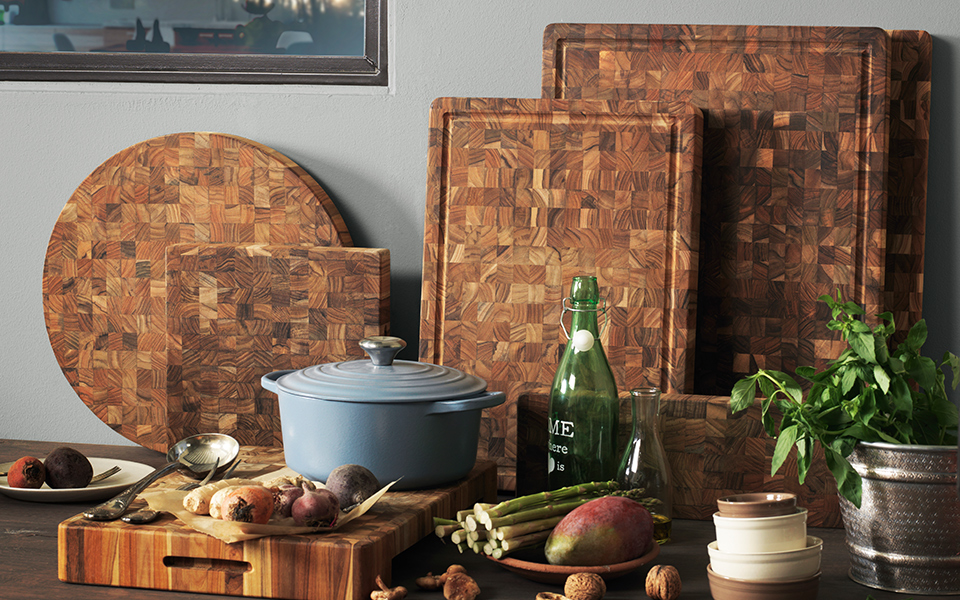 Cutting Boards & Storage

A high-quality cutting surface is just as important as a good knife. Wooden cutting boards have proven to be the best cutting surface.
Solid bamboo boards have the necessary hardness to keep the surface of your board smooth and undamaged for as long as possible. They are easy to clean and also protect your knife blades.
But also boards made of other types of wood or even plastic protect the sharpness of your knives and can be a real eye-catcher in the kitchen.

Chef's knives need to be stored properly - Storing chef's knives loose in the drawer will damage the knives if the blades collide. The knives become blunt. In addition, it is not without risk to reach into a knife drawer. We therefore recommend either a knife block, a knife bag or a magnetic strip.
All protucts here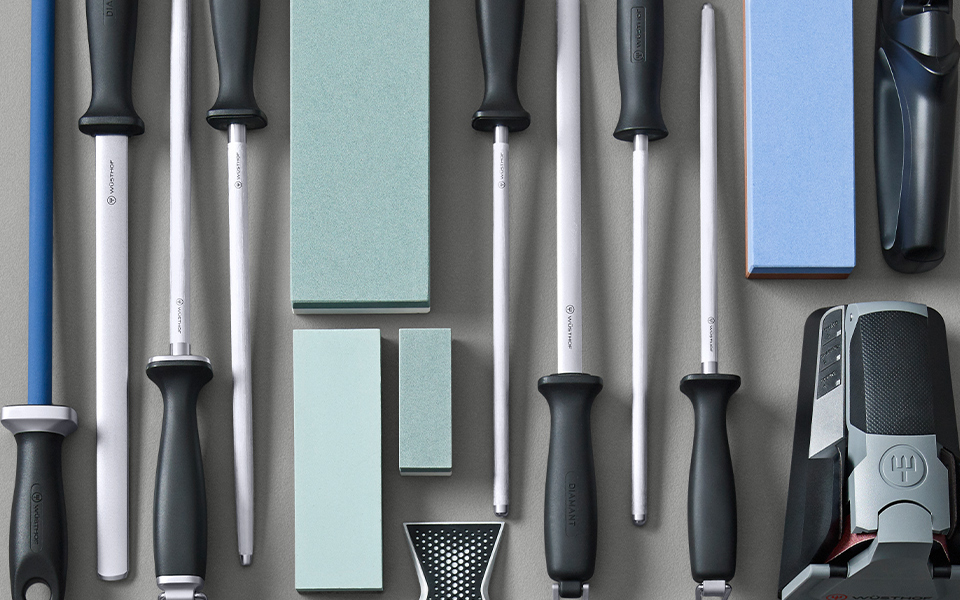 Sharpening Stones & Steels
The sharpness of good knives also decreases, so that the blade has to be sharpened. One of the most important features of an authentic Japanese knife is the handcrafted "V-cut".
This natural cut allows easy re-sharpening with a whetstone.
Here you will find sharpening stones, sharpening steels, grinding machines and much more to keep your chef's knives sharp.
All protucts here
Cleaning
After each use, wash the knife under running lukewarm water with a sponge or cloth and dry briefly. Cook's knives must not be put in the dishwasher! The aggressive salts and the heat attack the steel just like rust film. Likewise, the knife must not lie in the possibly filled sink. Leftovers of mustard or horseradish can also eat into the steel if they are not washed off.
Storage
Our knives are very sharp and should therefore be stored safely (in a place out of the reach of small children). We recommend storing high-quality knives in a knife block, on a magnetic strip or in a knife bag/case. In order not to prevent the blades, they should not lie on top of each other or be stored together with other kitchen utensils, e.g. in a drawer.
Sharpening
Grind it over special wet grinding stones, never pull it over a sharpening steel or let it down from a grinder. Regular scraping over the stone guarantees a very good sharpness and fun when cooking. Traditionally, the highest quality Japanese knives are not stainless. Always make sure that your knives are never wet.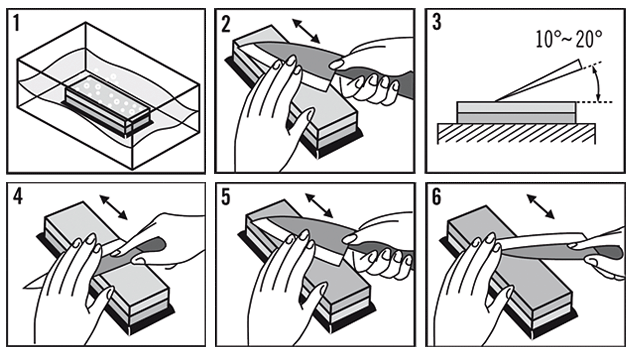 Instructions for sharpening Japanese wet sharpening stones
Let the stone really soak in the water for 15 minutes. The stone should always be wet during grinding, you can also sprinkle it with a little water. The water acts like a lubricant on the stone.
The knife should be at an angle of 10-20 degrees to the sharpening stone. Then the knife is pulled over the stone, i.e. pushed back and forth with light pressure.
During the grinding process, a powder is created that allows the grinding process to take place, similar to how soap foam cleans hands.
Single-edged knives are ground 80% front and 20% rear, double-edged 70% front and 30% rear. The front is right for right-handers and left for left-handers. (We also have many single-edged knives and serrated knives for left-handers).
After the sharpening process, the knife should be washed well with lukewarm water and finally dried.